Welcome to Bryn Mawr Community School – home of the Bryn Mawr Bulldogs! We created this section of our web site for new or prospective Bulldog families. In the fall of 2021, our student population is growing by 33%. There will be many new faces: new teachers, new students, and new families. Perhaps you are joining our school this year. Or maybe you're checking out our school because you live (or are considering a move) where Byrn Mawr is the community school.
About Bryn Mawr Community School
Our neighborhood public school serves a diverse group of 450 (as of 2021-22) students PreK, including Early Childhood Special Ed., through 5th-grade students. Our school's student demographics include 44% African American, .02% American Indian, 29% Asian/Pacific Islander, 9% Hispanic, 16% White. Approximately 73% of our students qualify for free or reduced lunch.
Principal Cavender brings energy and a wealth of experience to Bryn Mawr Community School. She has been with us since 2018. Prior to that she was an associate superintendent for the district. She also has served as a teacher, assistant principal, and principal of other Minneapolis schools. Our dedicated staff includes teachers who have been investing in Bryn Mawr students for decades! Their targeted instruction provides each student the intervention support and/or challenging academic work they need.
Bryn Mawr Community School Highlights

School Forest/Outdoor Classroom
Young Scholars
Program (K-2)
In 2021-22, Bryn Mawr is one of only four schools in the MPS district piloting this program which offers advanced academic instruction to all K-2nd grade students.
In 2021-2022, all students, PreK-5th grade, receive instruction from our Specialist teachers in the following areas: Media, Music (band offered to 4th and 5th graders), Physical Education, Science and Visual Arts.
Winter Skiing in Theodore Wirth & Spring Bike Riding
In 2021, our Physical Education teacher, Ms. Anita Chavez, secured a fleet of new bicycles and began incorporating bike riding for all students PreK-5th grade. Previously, she and the PTA collaborated to obtain ski equipment for the school. During the snowy months, Ms. Anita teaches the older students cross-country skiing in our school forest.

Bryn Mawr's free after school programming (with bus transportation) includes the STEM Club. We follow the MPS GEMS/GISE curriculum to help students uncover the wonders of Science, Technology, Engineering, and Mathematics through project and problem-based learning. Students use a hands-on and minds-on approach that integrates reading and math skills. Knowledgeable staff immerse students in high-interest and rigorous STEM experiences to provide relevant, real-world connections and career explorations.

Art on streets and around the world
While introducing students to principles of visual art, our Art teacher, Ms. K, exposes students to global perspectives. Her lessons feature art found in the traditions and cultural celebrations of people around this nation and world. Students also have opportunities to see their art shared beyond the school building. In 2021, as part of a graphic design unit, she used PTA funds to bring in a local artist to interact with the 5th-grade students. These students competed in designing a lawn sign to advertise our school. The Bryn Mawr Neighborhood Association turned the winning student's design into lawn signs which school families will receive in the fall of 2021. In 2022, Bryn Mawr is a participating school in the National PTA Reflections Art Program.
The "community" of Bryn Mawr Community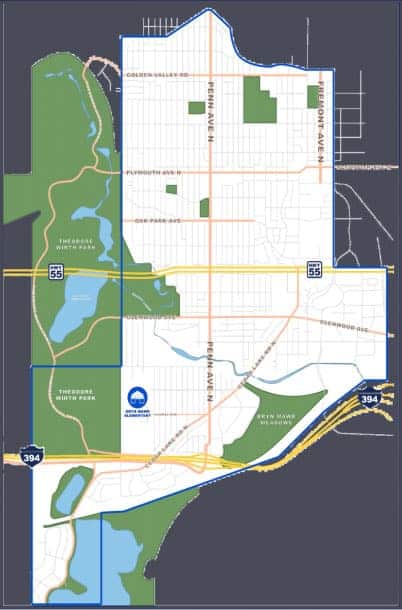 Family & Community Liaison | Ms. Mia
Family liaisons are MPS staff who facilitate communication among schools, families, and staff at MPS family resource centers. The Family and Community Liaison at Bryn Mawr Community is Alfreda Riddley. Everyone affectionately addresses her as Ms. Mia. Contact Ms Mia by email  Alreda.Riddley@mpls.k12.mn.us or phone 612-668-2500.
A Bulldog Ambassador is a family member of a current Bryn Mawr student. These PTA volunteers help welcome new and prospective families to Bryn Mawr Community School by answering any questions (or finding someone who can) and sharing their perspective as a current Bulldog family. Connect to a Bulldog Ambassador.